Our mission @ ExceLENS is to salute the achievements of the region's finest photographers (Pros/Amateurs), to discover new and emerging talent including students, home makers, hobbyists, literally anyone, and to promote the appreciation of photography/videography. Excellence is a journey, not a destination.Our journey began in 2019 and we have smiles to go, lasting memories to create, before we leap.
Food: Any still life photographs of food. (Packed, Unpacked and Altered)
Architecture: Bridges, Skyscrapers, Interiors, Industrial, Buildings and Structures.
People: Portraits (Traditional, Environmental, Glamour, Candid, Lifestyle, Surreal, Abstract, Conceptual) that focus on a single person or a small group of people (Children and/or Adults)
Street: Street Photography is open to all photographs that records every day life in public places.
Videography / Moving Images: TimeLapse Videos, Short Documentary, Video with a story between 30 seconds to 5 minutes.
Lifestyle & Fashion: Model Photographs, Commercial Photographs and Photographs that tell stories about people's lives or to inspire people in different times. Capture portrait/people in situations, real-life events or milestones in an artistic manner and the art of the everyday.
Nature / Wildlife: Landscapes, Wild Life, Aerial/Drone Photos, Pets, Panoramic, Seasons, Sunsets, Deserts, Trees, Flowers and Underwater Photographs falls under this category.
Fine Arts: Abstracts, Collage, Photographs with Special Effects, Black & White Photos, People or Architecture photography that are intended to be appreciated as visual art or an artistic photograph!
Technology: Especially depicting digital transformation and more.
Travel, Airport, Hotels: Shutterbugs for travel bugs.
Automobiles: Where there is a wheel, there is say, imagery.
Sports & Entertainment: Adrenalin pumping through the lenses.
Drone: Any photos or videos shot via drone can be included in this category.
Astrophotography: Stars, galaxy and beyond. Capture the universe through your lens!
Phone Photography: We know you are always on the go. Capture unique images that show your creativity.
Who is Eligible
ExceLENS is open to photographers & content creators from all over the MEA region, including South Africa and more.Participants can include emerging content creators (amateurs/hobbyists/homemakers), and student photographers, professionals (those who earn the majority of their income from photography) and all other creators!
Use and Ownership of Images
Copyright and all other rights remain that of the photographer. Any photograph used by ExceLENS shall carry the photographer's credit line.
HOW TO ENTER
Entering the Awards is easy.
On your Instagram handle @excelensawards, please mention the category you want to enter from the 12
Upload your image|s there (you can upload upto 5 images per category- low res images are fine)
Ensure you hashtag #excelensawards with every category you upload
In case you want to share high res images, please WeTransfer them on engage@groupisd.com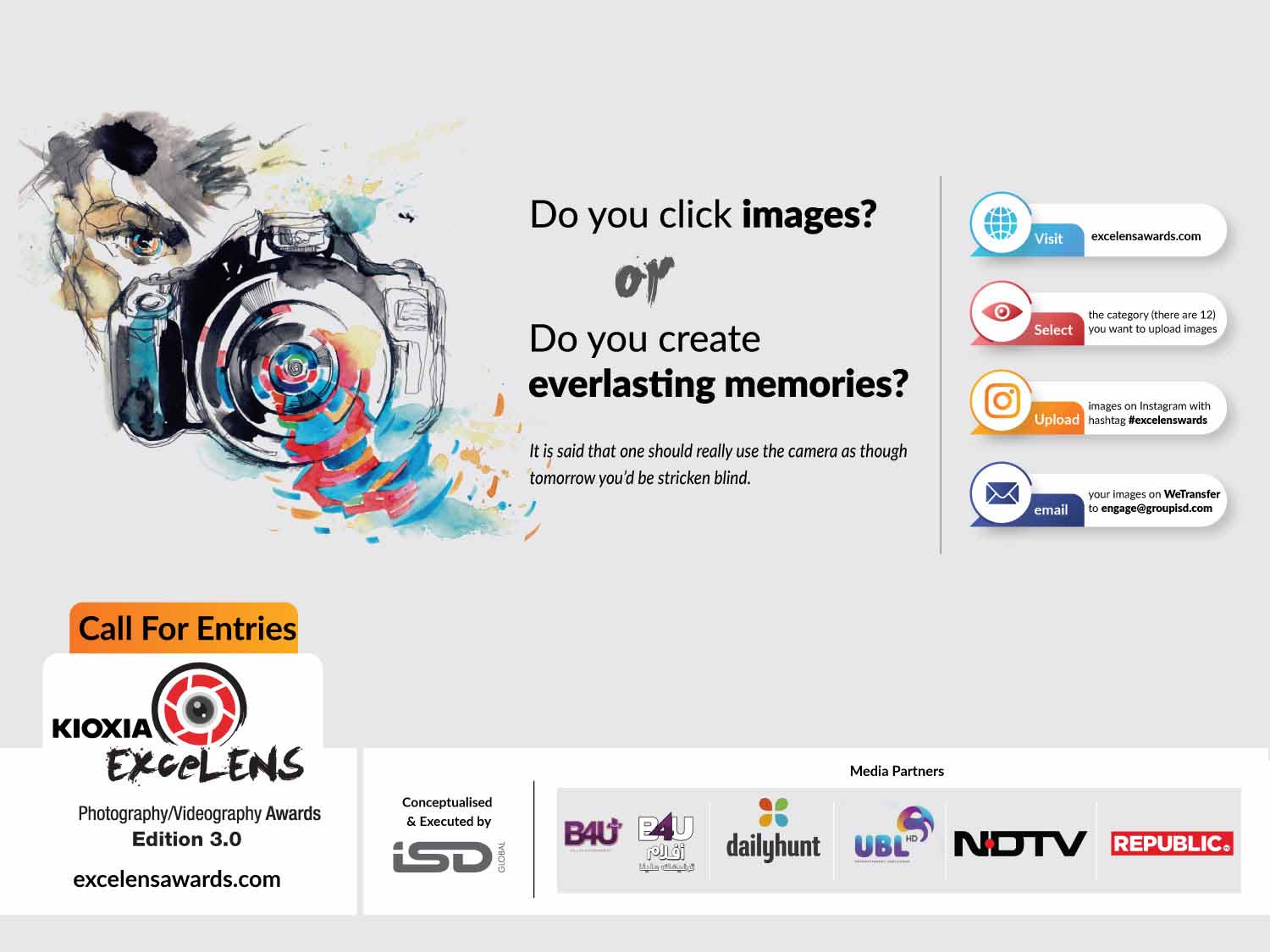 Each category will have a winner and a runner-up. The jury's decision will be final .
The prizes on offer include:
Certificate and Trophy to All Winners and Runners Up with individual name & category embedded
Cash Prizes to All Winners and Runners Up*
A total of 3 individual nominees who are either Winners or Runner Up across categories will get an all expense paid trip to Georgia( selection by lucky draw)**
A total of 3 individual nominees who are either Winners or Runner Up will get branded photography accessories ( selection by lucky draw)
A total of 3 individual nominees who are either Winners or Runner Up will get iPad Air ( selection by lucky draw)
A total of 3 individual nominees who are either Winners or Runner Up will get Bose True Wireless Sport Earbuds ( selection by lucky draw)
All nominees will get their shortlisted work exhibited at a ' Wall of Frame ' for a period of 2 days at a prominent venue | gallery in Dubai ***
NOTE
*Exact amount of cash prizes will be announced by 15th Jan, 2023.
** Prize includes Cost of air travel and hotel stay in Georgia. Visa etc will be subject to the respective country's visa rules and regulations.
*** Exact details will be announced by the end of January 2023.
Lucky draw winners of one prize will not get a chance to be part of the other lucky draws. For eg, winners of Bose Earbuds will not be eligible for the draw for Georgia travel or for iPad Air and so on.
In case the above referred branded items are not available at the time of the Awards ceremony, equivalent value branded items will be offered.
Prize winners who are based outside the UAE will have to make their own travel, visa, stay and local travel arrangements and the organisers will not be responsible for it.
Nomination Videos: ExceLENS Awards 2022
No. Entry to the Kioxia Excelens Awards is free.
Any individual who makes a living using photography is considered a professional photographer.
The Kioxia Excelens Awards is open to all students not just photography students.
Yes, apart from conventional cameras, you can submit images taken with your mobile/smartphones as well.
You will be intimated upon submission vide email. In case not received, you will be guided till such time it is successfully received.
REFER TO 'How to enter' section
You can upload any images that fit with the categories in our competition.
Please share the problem you are encountering in the subject line of your email and send it to engage@groupisd.com.
You can enter for as many categories as you choose.
No, there is no time limit.
Yes you can, please mention when you are submitting it in such cases.
Make sure you tag and hashtag 'excelensawards' on your entry. With each entry make sure you select a category that you think fits best. Don't forget to follow us on social media to stay updated!
We ensure that all amateurs, professionals and students will be judged on separate criteria, and each will be given equal opportunity to participate & potentially get nominated.
To get nominated our jury will be looking at your creativity. You can upload any resolution image on social media (please do make sure it's clear). Don't forget to tag, hashtag, mention the category! Once you are nominated, we will request you to send high resolution images to our jury.
Winners
The ExceLENS Awards Ceremony will be held in Dubai, UAE in the last week of March, 2023. Exact date will be announced by the 25th of Feb 2023. Thank you for your understanding & cooperation'.
Winners will get an email / instagram notification about their winning
Please refer to the prizes section on this site
Memories are made of these: Kioxia ExceLENS Awards, Edition 2.0!
It was a packed house at the eclectic Etihad Museum, Jumeirah, Dubai, the venue for Edition 2.0 of the Kioxa ExceLENS Awards, conceptualised and engineered by branding agency ISD Global, to salute the achievements of the region's finest photographers (Pros/Amateurs), to discover new and emerging talent including students, home makers, hobbyists, literally anyone, and to promote the appreciation of photography/videography.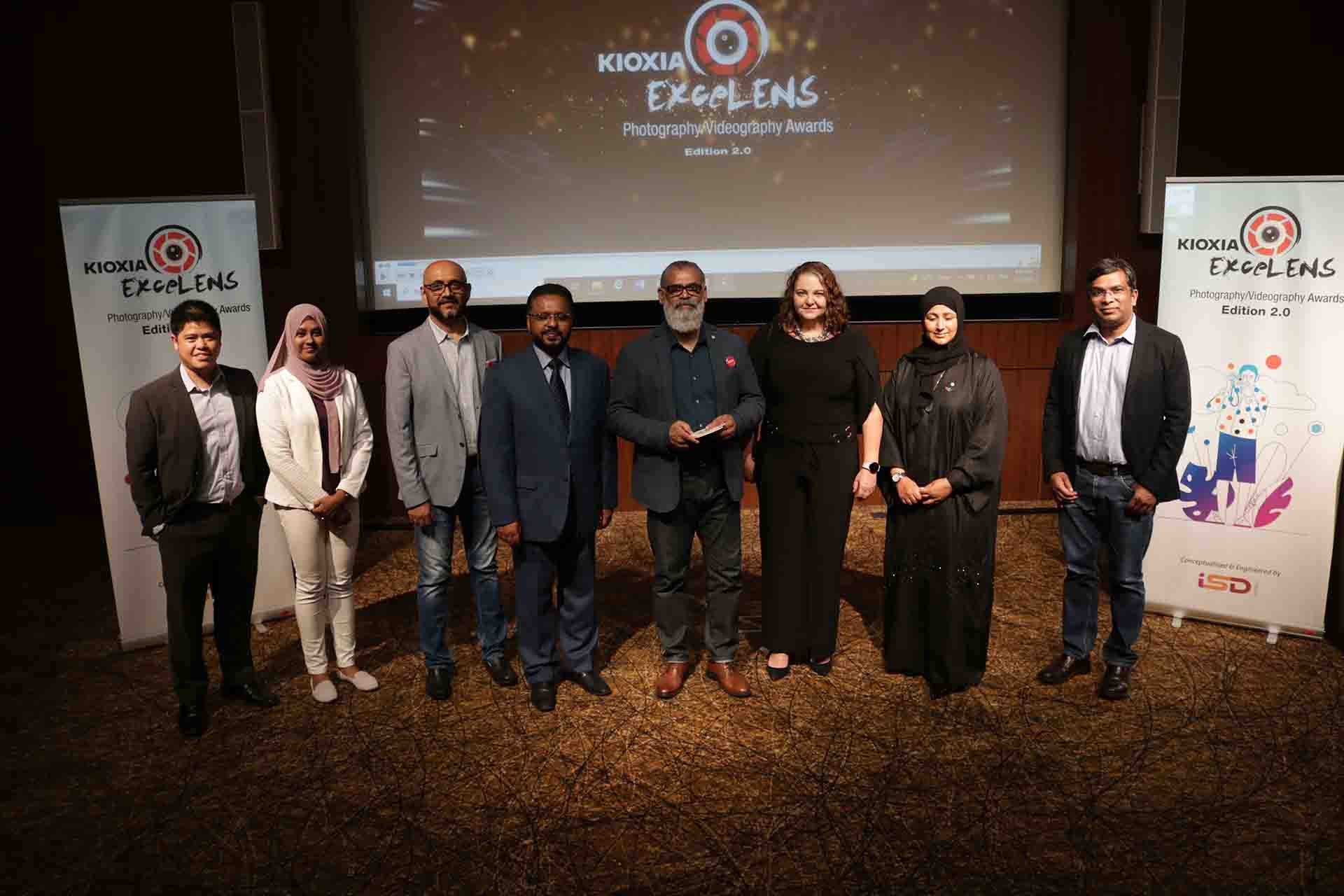 From l to r- Joey Caballero, Hassana Begum, Pravin Ahir, Santosh Varghese, Suresh Dinakaran, Tammy Tusek, Suaad Al Suwaidi, Rishi Mohan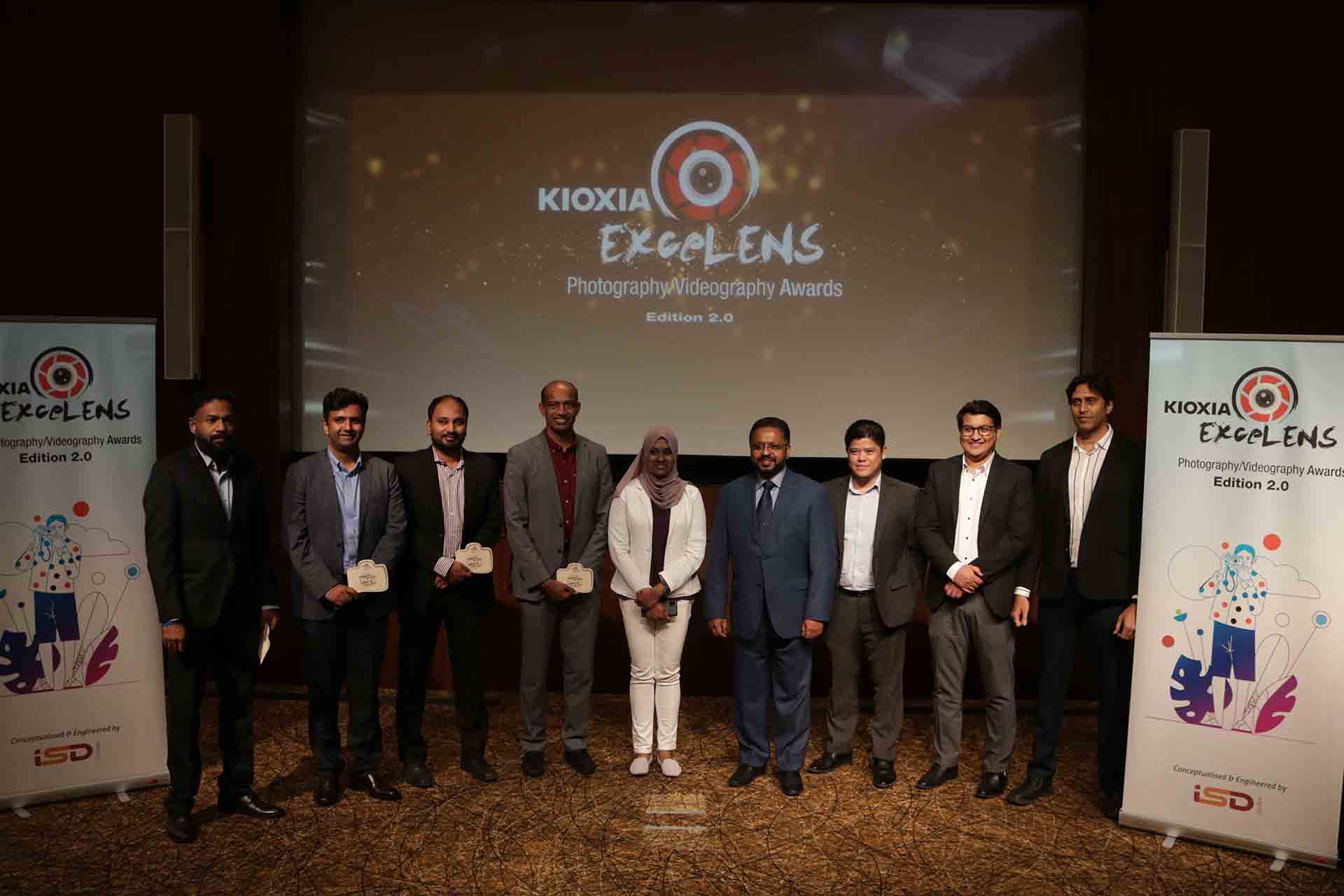 The dynamic Team Toshiba Gulf FZE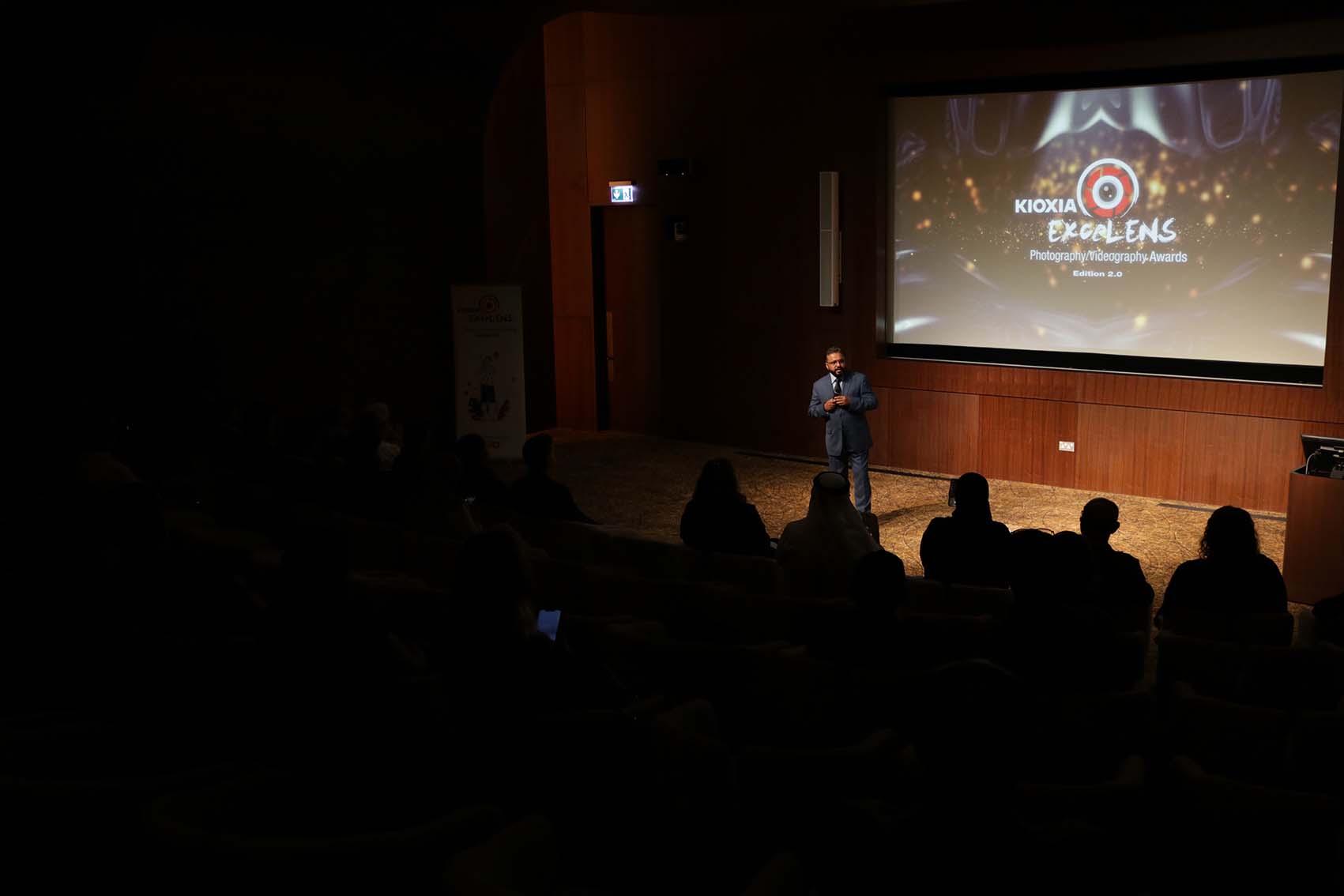 Santosh Varghese, Vice President, Toshiba Gulf FZE addressing the audience at the opening of the ExceLENS Awards
Some of the physically present winners with Santosh Varghese, Vice President, Toshiba Gulf FZE

An 'admiration society'of the photographs displayed at the ExceLENS Awards ceremony
Special Guests from l to r: Mohamad Noufal, Chef Miceel Uwe, Santosh Vartghese, Prof Christopher Abraham, Shah Basharat, Pam Jackson, Tammy Tusek, Suaad Al Suwaidi, Ghanim Al Falasi, Ola Lind, Tarek AbdelRahman, Shaji Shanmugham
Yes- The Awessibilitarians- Team ISD Global
Chef Miceel Uwe presenting the award in the Food category
Danielle Lake, Head of Regional E-Commerce - Airfreight MEA, DHL presenting award in the Sport category
Ghanim Al Falasi, Sr VP, Technology & Entrepreneurship, Dubai Silicon Oasis, with Lifestyle category winner Pinu Rahman and the effervescent MC of the evening Shobhana Narayan
Suaad Al Suwaidi, award winning Emirati wildlife photographer presenting the award to Nishar Mohamed, the winner
Ola Lind, Founder & CEO of FTFT Capital, delivering his keynote address

Santosh Varghese, Vice President, Toshiba Gulf FZE presenting the award to Marlon Cardenas in the Travel category
Tammy Tusek, a veteran leader in American international schools, presenting the award in the Street category to Christopher De Castro Comeso
Jury
A 10 Member Jury Panel will be constituted to review and evaluate/shortlist and pick the winners/runners up.
Get in Touch

Copyright & Intellectual Property 2017-2023. All rights Reserved
The ExceLENS Awards and all it's associated constituent/s like Wall of Frame are copyrighted and the intellectual property of ISD Global/ISD Advertising LLC at a global level.

This concept and the rights to contents and the concepts herein are owned by ISD Global and its associate companies.The Content and Concept are protected by copyright law,registered and unregistered trade marks, database rights and other intellectual property rights.Any use of the contents of this concept other than for the purpose of its provision is strictly forbidden. Except as otherwise expressly permitted under copyright law, no copying, redistribution, retransmission, publication or commercial exploitation of material herein will be permitted without our express permission or that of the copyright owner. In the event of any permitted copying, redistribution or publication of copyright material, no changes shall be made.

You may not modify, publish, transmit, participate in the transfer or sale of, create derivative works from, orin any way exploit, any of the Content or Concept, in whole or in part except as permitted by us. You warrant you will not make use of any of the contents of this concept in any other manner without our express permission in writing. You agree to indemnify us against any loss, damage costs or expenses in the event of any claim arising from your breach of this warranty. The contents of this document are strictly confidential, copying and or disclosure to other parties is prohibited and maybe unlawful.